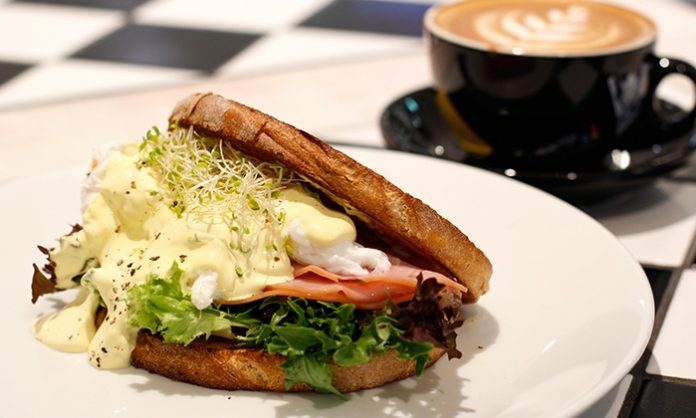 A great breakfast and lunch experience with fresh served meals and a variety of drinks and beverages to enjoy your dishes with can be found in sydney
Bernasconi's
23 Plumer Rd Rose Bay
9327 5717
A nice place to enjoy breakfast with a pleasing and vibrant atmosphere found at Bernasconi's. The café is situated on a beautiful tree lined Plumer Road with views to Woollahra Golf course. Enjoy filling and scrumptious meals at any time of the day with their friendly staff and baristas. Great service along with freshly served dishes makes Bernasconi's a nice place to spend your breakfast or lunch or even late time snacks with. Try out their Coffee selections today.
Big Brekky Café
336 Stanmore Rd Petersham
9569 8588
www.bigbrekky.com.au
A great breakfast and lunch experience with fresh served meals and a variety of drinks and beverages to enjoy your dishes with can be found at Big Brekky Café. Choose between a diverse range of Hot or Cold drinks to match with the meals that you are enjoying. They have Campos Coffee which is available in strong, large or affogato. A Chai tea and a bowl of hot chocolate is also available as well as Blush strawberries, smoothie pear and cinnamon and fresh juices with regards to their cold drinks.
Cafe XXll
22 Union St Pyrmont
9552 3093
www.cafexxii.com.au
A mix of Mediterranean and Australian cuisines awaits guests and customers at Café XXII. They serve a variety of dishes throughout the course of the day which makes them an all day breakfast café. Their brunch menu is perfect for those who aren't able to enjoy breakfast and lunch meals because of time constraints. A variety of drinks can be served along with the dishes that they provide from coffee to tea or wine depending on their customer's preference or taste.
Cafe Mint
579 Crown St Surry Hills
9319 0848
www.cafemint.com.au
Café Mint believes that their customers' time is important and they right into to the action by serving the desired breakfast, lunch or dinner menu in a short amount of time. The service and food is great even when the place is jam packed. For breakfast you can try out their Turkish breakfast which consists of Spinach & olives, roasted tomatoes, a boiled egg, grilled haloumi & za'atar Turkish toast. A variety of toppings can also be chosen as well as sides to your meals.
Cherubini
85 Boundary St Paddington
9326 9388
www.cherubini.com.au
If you are looking for a great way to start the day, the secret behind this lies on how you enjoyed your breakfast. Start the day right with a fresh cup of coffee, however, not just any type of coffee. Try out Italian coffee served at Cherubini. Cherubini's coffees are certified freshly roasted on a day to day basis. Choose between varieties of hot drinks that can make you want to come back for more. Espresso, Ristretto, Cappuccino, Café Latte, and Mocha can be found at their café.
Café Dov
130 Victoria St Potts Point
9368 0600
www.cafedov.com.au
Known for its fresh and tasty breakfast, Café Dov provides their customers with a variety of meals served with the finest and fresh produce right off the market. Check out their Ricotta pancakes with blueberries & maple syrup as well as their Bircher Muesli that has poached pears, almond flakes & yoghurt. Kids aren't left out as they have kiddy treats that are right around their alley. Hot beverages are also served along the way and customers can choose between a selection of coffee and tea.
Etiquette Catering
Cammeray Golf Club Park Ave Cremorne
9953 1522
www.etiquettecatering.com.au
Breakfast and lunch can also be considered to be a great time to celebrate special occasions and events. The usual dinner menu is replaced with a mix between breakfast and lunch dishes which can make it look varied and distinct. For such occasions, Etiquette Catering can provide you with the functions as well as the food as they offer catering with corporate events, weddings, birthdays, and other special occasions that need to be celebrated.
Evergreen Café
300 George St Windsor
4577 7007
www.theevergreencafe.com.au
Get the most out of your breakfast by indulging to a variety of desserts. This is great particularly if one has a sweet tooth. If you have kids with you, this is a perfect opportunity to spend some quality time with them while enjoying a delicious breakfast along the way. You can find a huge selection of varied cakes and desserts at Evergreen Café. They also have a large gluten free selection of meals which is a very good alternative.
Mano Espresso Café
73 St Johns Rd Glebe
9566 4499
Coffee charges you up and prepares you for the day ahead. This is why many look for coffee shops especially those who served breakfast and lunch meals along the way. To start with, you can have Espresso, Cappuccino or a Café latte to brighten your day. Enjoy these with their banana bread with pistachios, honey and fresh bananas and a lot more in stored with their menu. A variety of dishes awaits customers upon their visit.
Pablo's Vice
Cnr Goulburn & Crown Sts Surry Hills
0409 242 616
www.sydneycafes.com.au/pablosvice.html
An authentic and distinct breakfast and lunch experience is felt the moment you step in Pablo's Vice. Its Bohemian inspired culture makes the place unique from the rest and you can find such inspiration with the food that they serve. This is great for regulars as their friendly staff is quite fond of their regular customers. Try out their Spicy Moroccan chicken deluxe with avocado, roast capsicum, spinach and tzatziki. Relax and unwind after a scrumptious meal with tea or coffee available at their café.
Panzerotti Café
42 Margaret St Sydney City
9290 1119
www.panzerotticafe.com.au
The name speaks for itself. Panzerotti Café is an Italian inspired café found at the heart of Sydney. Their menu greatly symbolizes their love and dedication to Italian cuisines whether one is preparing for breakfast or lunch. Get a fresh new take with your breakfast experience and try out their Sausage Panino, Breakfast Bruschetta, Baked Eggs Amatriciana and the ever so popular Omelette. This is just the tip of the iceberg as their menu shifts from breakfast to lunch. Visit them today.
Raw Bar
Corner Warners Ave & Wairoa Ave Bondi Beach, Sydney, Australia
9365 7200
www.rawbar.com.au/contact.html
A fresh new take to your overall dining experience awaits you upon your visit at the Raw Bar. The Raw Bar is a Japanese inspired restaurant found at Sydney. Sushi is quite a common Japanese dish and you can try out several varieties of Sushi's at the Raw Bar. Sashimi is also available for orders and you can mix and match these both with their Sushi & Sashimi combo. For light orders you can try out A la carte sushi for single orders.
Satellite Espresso
Cnr Wilson & Brown St Newtown
8065 4572
www.satellitenewtown.com
Satellite Espresso is a one stop café for people of distinct hobbies and tastes. The place is common for artists, musos and the odd mega star which makes every trip worthwhile. There are several arts and events held at the café to keep customers busy. An overall mixture of sight, sound as well as taste awaits their customers during their visit at Satellite Espresso. They offer walk-ins, takeaway and catering for those important and special occasions.
Speedos Café
126 Ramsgate Ave North Bondi
9365 3622
www.speedoscafe.com.au
A large amount of the overall breakfast and lunch experience comes from the beverages and drinks that a Café serves. This completes the meal and sometimes people just want to grab a cold drink during their breakfast. Speedos Café is known for their large variety of drinks menu which can be enjoyed at any time of the day. They serve the typical coffee, tea, wine and even beer. What makes Speedos different from other Café is their blend it drink specialties with a diverse range of fruits for a smoothie or shake.
Swell Restaurant
465 Bronte Rd Bronte Beach
9386 5666
www.swellrestaurant.com.au
Enjoy breakfast and lunch along with an amazing ambience and view found at Swell Restaurant. The place is perfectly situated near Bronte Beach which gives the restaurant a warm and bright ambience. Customers and guests are able to enjoy the great scenery along with a wonderful view of the sea. Have a light breakfast with their seasonal fruit salad with honeyed yoghurt or go all out with their chorizo scramble with capsicum, Spanish onion and rocket on Turkish toast.
Well Connected Café
35 Glebe Point Rd Glebe
9566 2655
Enjoy a wonderful dining experience with your family or friends at Well Connected Café. Their Ricotta pancakes looks amazing and tastes quite good. If you are looking for some light snacks try out their Breakie Wrap or Eggs Benedict. Match your breakfast experience with a wide variety of drinks found at their Café which includes Cappuccino and Piccolo Latte. If you have children with you share with them chocolate lasagna with ice cream available at their café.
Wet Espresso Bar
128B Ramsgate Avenue North Bondi
9300 8778
Try something new with your overall dining experience by visiting Wet Espresso Bar today. We Espresso Bar is a Turkish inspired restaurant and this can seen with the variety of meals that they serve to their customers on a regular basis. For breakfast, have a taste of authentic Turkish breakfast with their Turkish wraps, burgers and other light meals. Pair these off with coffee and tea. If you want something heavy, you can try out lamb chops which is a great all around meal.
Plumer at Five Ways
226 Glenmore Rd "Five Ways" Paddington
9361 6131
A lot of people have busy and active schedules which makes it hard for them to enjoy their breakfast. Fortunately, several Cafés today provide their customers with take away orders for them to enjoy meals anywhere they go. Plumer at Five Ways offer breakfast, lunch and dinner to their customers on a regular basis. They are famous for their chicken burgers which can be enjoyed along with a salad, curry or with chips and gravy.
Coffee & Things
123 Belmore Rd Randwick
9399 3008
Coffee & Things is known for their best tasting coffee served fresh and hot to their customer's new and old ones alike. They provide a range of espresso, coffee and snack along the way to complete a customer's breakfast or lunch experience. Their coffees can also be enjoyed at any time of the day which is great for light or heavy snacks with you or your friends. Visit them today.
Slice Restaurant
248 Glenmore Rd Paddington
9331 2308
www.sydneycafes.com.au/slice.html
Enjoy a breakfast or dinner for two with your family or friends at the Slice Restaurant. Slice Restaurant provides scrumptious and mouthwatering meals at any time of the day. This makes it a perfect place to visit at any time of the day. Check out their juicy pork belly with lentils, Star Anise and Soy Glaze. Kids aren't left out as they have a diverse range of desserts which includes Chocolate Indulgence. Check them out today.