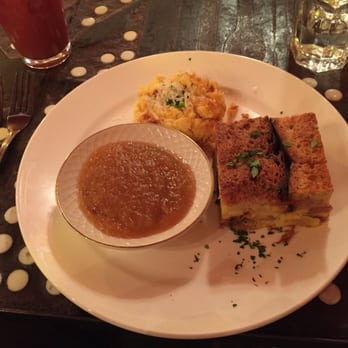 Chez Lulu Crepe Bar
Address: 24 Bronte Road, Bondi Junction
NSW 2022
Phone: (02) 9386 5771
Hours: Monday-Wednesday: 7am—5pm, Thursday-Sunday: 7am —late. Dinner on Monday-Wednesdays may be available if booked in advance.
In the heart of Bondi Junction, opposite the Leagues Club and nestled between a convenience store and an Indian diner you'll find Sydney's vibrant new crepery, Chez Lulu.
Outside the 378 bus collects passengers headed for Bronte, but once inside the streamlined chocolate and cream décor welcomes with a warmth that's hard to resist.
Chez Lulu is Sydney's first traditional crepery which sells galettes (savory crepes). Unlike a sweet crepe, a galette is made from gluten free buckwheat. Chez Lulu uses organic buckwheat and makes them to traditional French pancake recipes.
My dining partner and I decided to share our choices. With much indecision I finally chose the Savoyarde and he chose the Mont St Michel.
The Savoyarde arrived quickly. The first thing I noticed was the symmetry of the carefully served crepe – an 'X' of asparagus spears sitting over strips of proscuitto and melted cheese. Then out came the Mont St Michel. Salmon and capers wrapped in a galette and dotted with black and red caviar. We tucked in.
The only sounds from my dining partner for the first five minutes were something like, "mm. MMmm. MMMM. Mm" in rapturous approval, and I wasn't far behind. Each crepe came with a salad and was enough to satisfy, yet left plenty of room for dessert for the hungrier of us. Thank goodness!
We studied the crepe list eagerly. If I'd thought the indecision of earlier was drawn out, this was monumental! To have something with chocolate or not? With fruit or jam? Chestnut or honey? In the end I chose the Belle Helene (poached pear in chocolate sauce) while my dining partner went for the Grand Marnier, but I'd recommend coming back a few times to try them all.
I watched as my crepe was made in the front of the café for passers-by to see. Chocolate sauce was expertly drizzled over the top with a wooden spoon and a few practiced flicks of a wrist.
As for the Grand Marnier crepe, the aroma of the citrus almost preceded the arrival of the crepe itself, and disappeared just as quickly as the Belle Helene.
Our friendly hostess Cellia told us they are as happy for people to come in for dessert and coffee later at night as they are to serve a breakfast gallette (Chez Lulu opens at 7am).
Chez Lulu opened in March 2009 with the idea of creating something uniquely and authentically French yet with affordable everyday fare. They have found a steady clientele in the many French expats and travelers who have told them their chestnut crepes and their galettes are very difficult to find elsewhere.
Chez Lulu is French without leaning on the stereotype, but just by being themselves. And that was the pièce de résistance.