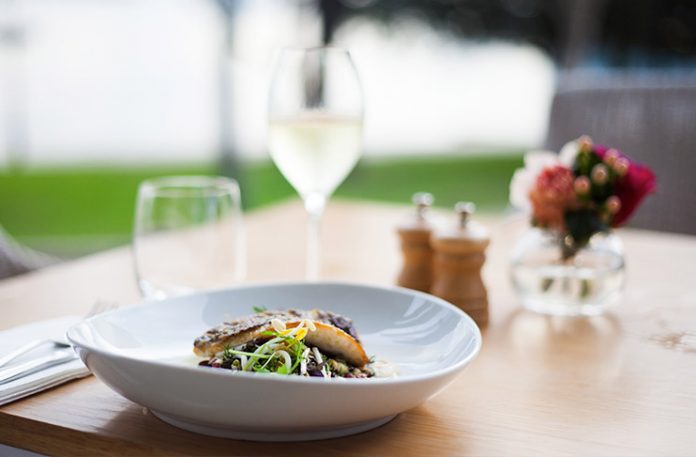 To have your venue included on this page contact us via our Facebook profile – ask us about a contra deal so you can be featured in the top 3 profiles!
Nour Sydney
490 Crown St, Surry Hills Ph: 02 9247 9777
noursydney.com
facebook.com/NourSydney
Nour has an unrestricted approach to creating classic Lebanese/Israeli/Middle Eastern food making them fresh and exciting. Delicious, light Levantine dishes created from the freshest and best ingredients with vegetarian, vegan and gluten free options that is still full of bold and vibrant flavours. Nour is about to change the way you think about Lebanese food.
The Paddington
384 Oxford St, Paddington Ph: 02 9114 7329
https://merivale.com.au/venues/thepaddington
facebook.com/thepaddingtonsydney
The local pub re-imagined offering a world class dining experience –  that is what The Paddington is about. Whether it's a family dinner or a late night drinks with the boys, there is a place for you there. Known for their roast chicken, they also have fabulous meats, fish and vegetables. They are open for lunch, dinner and drinks even have a private dining room for very special occasions.
Paddo Inn
338 Oxford St, Paddington Ph: 02 9380 5913
paddoinn.com.au
facebook.com/paddoinn
This bar and grill is all about the greatest pleasures in life – good food, drinks, friends and family. Their grilled meats features great Australian beef and local seasonal produce with seafood and vegetarian options are also available. Open for lunch, dinner and drinks, Paddo Inn's cellar is filled with wines exclusively hand picked for your pleasure.
Pheast
302 Bronte Rd, Waverley Ph: 02 9387 6020
pheast.com.au 
facebook.com/pheastwaverley
Pheast is a small casual eatery that features inspired dishes made with the freshest local produce available. They let the quality of the ingredients speak for themselves vegetables on a prominent role. Servings are meant to be shared. Globally inspired, inventive, beautifully presented.
Regatta Rose Bay
594 New South Head Road, Rose Bay Ph: 02 9327 6561
regattarosebay.com 
facebook.com/regattarosebay
Regatta has such a picturesque location it is hard not to love being here. But it is more than the location, the service impeccable; the Mediterranean themed food; they all come together to create a wonderful experience. They have gluten free options, outdoor seating, kid friendly and have a full bar.
Rocker
2 Mitchell St, North Bondi Ph: 02 8057 8086
rockerbondi.com.au
facebook.com/rockerbondi
A casual neighbourhood café, Rocker Bondi is the ultimate laid back surf-side spot, the name 'Rocker' being the curve of the surfboard, an invitation to relax and have fun. They are open for breakfast, lunch, dinner, coffee and drinks. They mostly serve European food but have equally diverse snacks, starters and mains. Also offers co-working space for North Bondi creatives.
Shuk Bondi 
2 Mitchell St, North Bondi Ph: 0423 199 859
shukbondi.com 
facebook.com/shukcafebondi
Shuk literally means marketplace in Hebrew. Shuk Cafe Bondi is one favourite Mediterranean/Israeli place for most locals and tourists alike. Serving breakfast, lunch and dinner, they bring the flavour of Israel with dishes they learnt from their families back home mixed with modern favourites. Shakshuka and the slow cooked lamb with hummus are often crowd pleasers.
Ruby's Diner 
173-179 Bronte Rd, Waverley Ph: 0404 379 585
rubysdiner.com.au 
facebook.com/RubysDinerWaverley
All day breakfast and coffee for everybody is the allure of Ruby's Diner. They offer everything from Single O beans on tap to specialty filter methods including cold drip black, Aeropress and siphon. Their superfood muffin is as much a specialty as their coffee, just a sampling of the nutritionally clean living cafe fare.
Katipo Coffee House Deluxe
http://katipocafe.com.au/
101 Bondi Road, Bondi, NSW 2026 Ph: 02 9387 7399
Katipo has a great atmosphere. This little rocking local hub is nicely positioned on busy Bondi Road and seems to be a fairly popular hangout for a youngish crowd (20s-30s). With an extensive breakfast menu (more options than for lunch), Katipo is one of the best places for a tasty Sunday brunch in Bondi. Swing by Katipo next time you're in sunny Bondi.
Swell Restaurant
http://www.swellrestaurant.com.au/
465 Bronte Road, Bronte Beach NSW 2024 Ph: 02 9386 5001
Swell is an award-winning restaurant opposite beautiful Bronte Beach. This local secret serves mouth-watering Italian dishes and offers the best of Sydney's beachside cafe by day (Swell Restaurant) and restaurant dining by night (Bronte Cucina Italian Restaurant).
Barzura
http://www.barzura.com.au/
62 Carr St, Coogee, NSW 2034 Ph: 02 9665 5546
Modern Australian menu is served at Barzura. This restaurant offers breakfast, lunch and dinner with breath-taking views of Coogee Beach and the Pacific Ocean. If you want tasty food with a view, Barzura won't disappoint. It's a must stop for food, coffee or wine on any eastern beaches visit.
Brown Sugar

106 Curlewis St, Bondi Beach, NSW 2026 Ph: 02 9130 1566
Brown sugar is hugely popular with locals. This casual but stylish place is a chilled Bondi cafe by day and a relaxed candlelit bistro by night and serves impressive and innovative dishes that are consistently fantastic. Try the yummy fish pie when you visit. Brown sugar is a sweet experience!
The Hill Eatery
http://www.thehilleatery.com.au/
Shop 5 39-53 Campbell Parade, North Bondi, NSW 2026 Ph: 02 9130 2200
The Hill is a fab little restaurant perfect for a balmy summer evening. This lovely location offers great food with a warm and friendly atmosphere. The Hill serves sustainably sourced food and practices the farm to table philosophy and is definitely worth a visit for a casual yet intimate dining experience.
One Six Nine Café
http://www.onesixninecafe.com.au/
169 Alison Rd, Randwick, NSW 2031 02 9398 2007
Café One Six Nine is a brilliant kid-friendly café with a relaxing atmosphere and a service that is pleasant and accommodating. The food is lovely, fresh and constantly changes with the season. Their coffee known as 'The Golden Cobra' is consistently delicious and is available in 500g packs to take home.
Spicer Street Café
http://www.spicerstreetcafe.com.au/
Shop 2 128 Queen St, Woollahra, NSW 2025 Ph: 02 9328 2221
Spicer Street Café is a boutique café located in the exclusive locale of Woollahra. This great little hide away café serves some of the best coffees in the area and offers fresh organic and gluten-free dishes with Middle Eastern and Mediterranean flavours. Try yummy treats such as vanilla-scented baked ricotta and bacon and egg rolls. There's also an outdoor and indoor seating so clients don't feel cramped in a tiny little space when dining in.
Trio
http://www.triocafe.com.au/
56 Campbell Pde, Bondi Beach, NSW 2026 Ph: 02 9365 6044.
Trio is a fantastic café with an extensive brunch menu offering both breakfast and lunch items that are creative, generous and delicious. The Shakshouka (Middle Eastern breakfast) is a must try and you'll also find some of the best coffee and smoothies at this cafe. Great food with a lovely view out on Bondi Beach is what you'll experience at Trio.
Bernasconi's
http://bernasconicafe.com/contact.php
23 Plumer Rd, Rose Bay, NSW 2029 Ph: 02 9327 5717
Bernasconi's Café is a cosy spot to relax, dine out or just to unwind with a cup of coffee. This café has a good selection of healthy and tasty meals for breakfast and lunch with an attentive and friendly service. The menu is diverse and the food is fresh with good portion sizes.
Three Blue Ducks

143 Macpherson Street, Bronte, NSW 2024 Ph: 02 9389 0010
Three Blue Ducks is an intimate restaurant with a casual, beach feel that is located a short stroll up the hill from Bronte beach. Their focus is on food and offer great coffee and an interesting breakfast menu that is well executed.
Chapter One Coffee and Wine Room
http://chapter-one.com.au/
Shop 3, 34 Campbell Parade, Bondi Beach, NSW 2026 Ph: 02 9130 1651
Chapter One Coffee and Wine Room is a place with a rustic charm located right across the street from Bondi Beach. Serving breakfast, lunch and dinner, this restaurant is quietly earning a reputation for being consistently delicious. Chapter One Coffee and Wine Room also has a range of wine list as well as beers and ciders you can enjoy with a great view of Bondi Beach.
Black Pony Café
http://www.blackponycafe.com. au/
252 Coogee Bay Rd, Coogee, NSW Ph: 02 9664 9440
Black Pony is a cosy little cafe near the beach at Coogee that's quite popular with the locals This café makes different kinds of food from the simple to the sophisticated that are well presented and flavoursome. Black Pony also serves some of the best coffee in Coogee too.
Molly's Fresh Food & Stuff
http://www.mollys.com.au/
2/25 Mckeon Street, Maroubra, NSW 2035 Ph: 02 9315 5660
Mollys Fine Food is a charming and friendly neighbourhood hub located by the Maroubra Bay. Its laid back atmosphere makes you feel like you've dropped into a friend's house for brunch. With delicious food prepared fresh and locally sourced, coffee that's highly rated and juices that's fresh and full of flavour, Molly's definitely deserve a spot on this list.
Zeebra Café
http://www.zeebracafe.com.au/
41 Mckeon Street, Maroubra, NSW 2035 Ph: 02 9314 1276
Zeebra Cafe is only stone's throw away from Maroubra Beach. This café serves quick food staple beach fares such as burgers, wraps, salad and chips. Zeebra also offers kids menu, Segafredo coffee and an extensive range of drinks.
Bogey Hole Café
http://bogeyholecafe.com/
473 Bronte Rd, Bronte Beach, NSW 2024 Ph: 02 9389 8829
Bogey Hole is a nice place to hang out. This café has a wide choice of imaginative and tasty fares that are all home-made. They also serve Toby's Estate coffee and teas. Good food, good coffee and good service with a wonderful view to boot!
Craig's Cheese Shop
http://craigscheeseshop.com.au/
59 Birrell St, Bondi Junction, NSW 2022 Ph: 02 9387 3323
Craig's Cheese Shop is a local cafe & deli located a short stroll from busy Bondi Junction down Brisbane Street. This café is not only a cheese shop but serves delicious breakfast and lunch, coffee, a selection of cheese (Holy Goat, French Comte de Gruyere, Saint Augere and their very own parmesan and cheddar biscuits) and locally sourced produce. Craig's provide a quick and personal service and you'll walk away feeling satisfied.
Bluesalt Restaurant
Crowne Plaza Coogee Beach, 242 Arden St, Coogee, NSW, 2034 Ph: 02 9315 9138
Bluesalt Restaurant is the signature restaurant of the Crowne Plaza Coogee Bay Hotel that offers a unique seaside dining experience with breath-taking views across Coogee Beach and the Pacific Ocean. Sample modern Australian flavours with this restaurant's fresh innovative dishes accompanied by some of the best Australian and international wines.
Three Beans
http://www.threebeans.com.au/
Shop 5 809-823 New South Head Road, Rose Bay, NSW 2029 Ph: 02 9371 3451
Three Beans is a local favourite for excellent coffee and friendly service. This cafe offers an interesting breakfast menu including Canadian-style French toast, the Vegetarian Breakfast and its very own organic blend, Three Beans has a breezy open setting with a few tables available outside.
Sean's Panaroma
http://www.seanspanaroma.com.au/
270 Campbell Pde, Bondi Beach, NSW 2026 Ph: 02 9365 4924
Sean's Panaroma is a great location with a laid back casual atmosphere. This restaurant serves Modern Australian and Italian dishes with an excellent wine selection. Delicious food, great produce and a breath-taking view – a winning combination!
Eugene's
http://www.eugenes.com.au/
69 Macpherson St, Bronte, NSW Ph: 02 9369 1110
Eugene's has a cool, slightly Boho ambience with interesting breakfast options. It's another cafe in the Bronte region that is taking good coffee to the streets and with a well-balanced blend of true sweetness and caffeine hit, there is no doubt Eugene's will keep on drawing crowds for years to come.
Harry's Espresso Bar
136 Wairoa Ave, Bondi Beach, NSW 2026 Ph: 02 9310 2180
Harry's Espresso Bar is a nice little local cafe perfect for a mid arvo lull. This café has a stylish interior with some seating available outside where you´ll get a nice view of the famous Bondi Beach. This espresso bar also has some of the best gluten-free cookies, delicious fresh juices and milkshakes and surprisingly good sandwiches to enjoy.
Ichi-ban Boshi Japanese Noodle House
http://www.ichibanboshi.com.au/
Shop 1, 171-173 Oxford St, Bondi Junction NSW Ph: 02 9369 3980
Ichi-ban Boshi is conveniently located in front of Bondi Junction station and is the perfect spot for shoppers and commuters. It's a simple no frills restaurant that serves authentic Ramen, udon noodles and other Japanese dishes. If you want a good ramen, Ichi-ban Boshi is the place to visit.
Bistro Avoca
http://www.bistroavoca.com.au/
133 Avoca St, Randwick NSW Ph: 02 9399 9667
Bistro Avoca is a contemporary bistro that offers modern Australian cuisine, with fresh seasonal ingredients and a wide selection of beers, wines and spirits in a relaxed and comfortable atmosphere.
This intimate restaurant also allows BYO wine at night.
Bar Doppio
Shop 5, 519 Old South Head Rd, Rose Bay NSW 2029 Ph: 02 9371 8259
Bar Dopio is a veg-friendly restaurant known for their quality salads that are always fresh with huge portions. This restaurant also serves fair trade organic coffee that tastes brilliant. The chicken and barley soup is also a must try.
Oneness Cafe Restaurant
http://www.onenesscafe.com.au/
244 Coogee Bay Road, Coogee, NSW 2034 Ph: 02 9665 0050
Oneness Cafe specialises in providing delicious and healthy organic food with raw, gluten free, vego and vegan options. You can see that a lot of love goes into their food. They also have meditation and cooking classes you can sign up to.