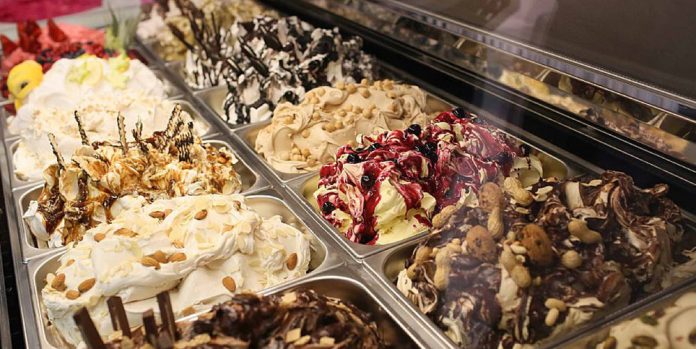 Gelato Messina
243 Victoria St, Darlinghurst NSW 2010
02 9365 1233
www.gelatomessina.com
Enjoy your dessert just the way you want it. Gelato Messina delivers fresh and delightful treats for you and your family to enjoy. Their ice cream uses ingredients from their raw and most natural form. This ensures that the flavor are kept stored and preserved fresh with no unnecessary artificial colours, flavours, preservatives and paste added. Have a taste of their incredible flavour combo specialties such as coffee & hazelnut, vanilla & chocolate fondant, pandan coconut & passion fruit and many more.
Pompeis
126-130 ROSCOE ST, BONDI BEACH
02 9365 1233
www.pompeis.com.au
Experience authentic ice cream made from the finest ingredients straight from Italian recipe. Pompeis finest Italian gelatos are made with natural flavors which and they refrain from using artificial colours, flavours, as well as preservatives during the creation of their masterpiece. Their ice creams are made with organic milk or you can choose sorbets make without one. This is a very welcomed feature especially for those who are lactose intolerant. Grab a friend with you and head over at Pompeis today.
Gelatomassi
262 King Street Newtown NSW 2042
02 9516 0655
www.gelatomassi.com.au
Gelatomassi has been in the ice cream industry for quite some time. Established in 2003, Gelatomassi has slowly gained a following and is now considered to be one of Australia's favourite hotspots which serve traditional, handmade gelato to their customers on a regular basis. This along with a variety of products including coffee, milkshakes, smoothies and waffles can Gelatomassi a nice play to visit with you or your friends. They also provide home delivery service which is great for parties or other special occasions.
Chat Thai
Haymarket 20 Campbell St Haymarket, NSW 2000
02 9211 1808
www.chatthai.com.au
Have a taste of the oriental flavors of traditional Thai cuisines along with their array of desserts. Chai Thai's menu are heavily inspired from Thailand which gives off that authentic taste which others are looking for. They also service a different variety of dessert which includes ice creams for everyone to enjoy. They encourage customers to socialize with others as their warm atmosphere and ambience allow for such discussions. Bring a friend with you and enjoy Thai cuisine along with amazing desserts.
The Winery
285A Crown Street, Surry Hills Sydney, 2010
02 8070 2424
www.thewinerysurryhills.com.au
Enjoy a refreshing lunch or dinner with you or your friends. The winery is a nice place to visit especially for those who want to book a table for a more intimidate and private dining experience. This is perfect for those who want to enjoy their meals with a quiet and soothing ambience and atmosphere. Have a taste of their awesome desserts and of course, their signature wine. This helps complete the overall experience as customers leave on a full and satisfied stomach.
Cow and the Moon Dessert Bar
181 Enmore Rd, Enmore Sydney, Australia 2042
02 9557 4255
wwww.facebook.com/pages/Cow-and-the-Moon-GelatoCoffeeDessert-Bar
A great place for short visits and quick snacks can be found at Cow and the Moon Dessert Bar. Cow and the Moon Dessert Bar provide adequate outdoor seating to fully immerse themselves with their dessert. Those who have a busy schedule are also able to enjoy the menu offered at Cow and the Moon Dessert Bar as they also provide takeaways. Children as well as adults are able to enjoy themselves with their variety of gelato, desserts and coffee.
Hartsyard
33 Enmore Road Newtown NSW 2042
02 8068 1473
wwww.hartsyard.com.au
Enjoy a healthy meal that is also filled with a variety of desserts. Have a taste of their delicious soft serves with tons of options to choose from with regards to their flavors. Definitely check out their peanut butter plus banana sundae mixed with pretzel and salted fudge. For those who aren't into too much sweet, they can their honey & milk combination which is comprised of honeycomb, yoghurt, pine nut and raspberry. Enjoy a fun-filled afternoon with your friends at Hartsyard.
Pasticceria Papa
145 Ramsay St, Haberfield NSW 2045
02 9799 9531
www.ppapa.com.au
Tickle your taste buds with amazing and fun desserts a Pasticceria Papa. The café is known for their specialty cakes, breads, biscuits, small cakes and other great pastries. Cakes for all occasion are also made per customer's request. With that said, Pasticceria Papa also has a slew of cold desserts that is perfect for the warm and bright days of the summer. If you have a craving for something cold and sweet, definitely check out what Pasticceria Papa has to offer for you.
Coffee 1st
426 New Canterbury Rd Dulwich Hill, NSW
02 9564 0552
www.coffee1st.com.au
Ice cream and coffee can be served altogether to satisfy your cravings of both. This also opens a lot of opportunity to chill and unwind as you are enjoying your ice cream and then relaxing afterwards with a cup of coffee. Such place can be found at Coffee 1st as they serve both snacks and desserts to their customers on a day to day basis. This gives their customers different options to mix and match their favorite desserts depending on their preferences.
Café Cre Asion
21 Alberta St Sydney, NSW 2000
0404 941 528
www.creasionmacaron.com
Take a break away from it all and enjoy amazing desserts at Café Cre Asion. If you are looking for a place to enjoy desserts or sandwiches in short bursts, then you've came to the right place. Café Cre Asion has a variety of snacks to choose from such as sandwiches, subs and coffee. Add the necessary sidings for a complete meal experience. Definitely try out their macaroons that come in different colors variety which can be a perfect takeout meal.
Baroque
88 George Street (corner of Hickson Road) The Rocks Sydney, NSW, Australia
(02) 9241 4811
www.baroquebistro.com.au
Enjoy a nice cup of coffee with your dessert at Baroque Bistro Bar. You can also enjoy the desserts that they offer along with their main menu. Those who want their seats ready upon arriving will be pleased to hear that Baroque offers booking reservations to their customers on a regular basis. Have your desserts ready at any given time by scheduling an appointment today. This along with their wide selection of age old wines makes for a perfect treat .
Sparrow Gelato & Espresso
Shop 2 Ernest place Crows Nest, New South Wales, Australia 2065
02 9437 5090
facebook.com/pages/Sparrow-gelato-espresso
A great and relaxing café awaits you at Sparrow Gelato & Espresso. They are open as early as breakfast till late into evening giving their customers tons of opportunity to visit their store. Enjoy a warm sip of coffee and pair them off with their specialty cakes. Of course, gelatos are readily available at their store for easy and fun consumption. Their menu changes depending on their specialties, so make sure to visit often to make the most out of their every meal.
Foodies Deli Café
Shop 4/29 clareville ave, dolls point nsw 2219
(02) 9583 1111
www.foodiesdelicafe.com.au
Enjoy your meals and desserts out in the open area while feeling the warm cool breeze of the environment. Foodies Deli Café offers such ambience to their customers as they store is located out in the open. This in turn, makes the café feel quite spacious and wide. Those who want the store for themselves during special occasions are able to do so as they offer catering services to their customers on a regular basis. Dine, chill and unwind at Foodies Deli Café.
Green Pepper Corn
1 Hamilton road & 388 Pitt Street Sydney Fairfield, New South Wales, Australia 2165, 2000
02 8080 7043
www.greenpeppercorn.com.au
An authentic Thai restaurant that serves lunch and dinner as well as desserts to their customers, Green Pepper Corn caters for both children and adults with their specialty dishes that everyone can enjoy. If want to try something new with regards to desserts, perhaps their fried ice cream will tickle your senses, displaying a blend of warm and cold feeling with their ice cream. This is definitely something to look forward to when you visit their store today.
Lorraine's Patisserie
Shop 5, Palings Lane, 320 George St Sydney NSW 2000
02 9254 8009
www.merivale.com.au/lorraines-patisserie
Lorraine's Patisserie offer grab n' go orders with their desserts making it quite convenient for anyone who wishes to have their desserts at any given time. Lorraine's Patisserie also offers catering for special occasions and events as they are able to provide the much needed number of desserts for everyone to enjoy. These desserts are kept fresh and secured at all times especially since no prepared food is made but is created upon a customer's request. Get your orders today.
Ananas Bar & Brasserie
18 Argyle Street the Rocks Sydney NSW 2000
02 9259 5668
www.ananas.com.au
Enjoy elegant and fine dining at Ananas Bar & Brasserie. Discover a huge selection of age old wine, champagne and cocktails to make your meal truly exquisite and filling at the same time. Add the necessary desserts to complete the overall dining experience for you and your friends. They have desserts available such as the Hazelnuts and milk chocolate tart with Frangelico caramel sauce, Pineapple yogurt Popsicle, with Pop rocks, Snickers revolution, Pistachio and citrus crème brûlée, Grapefruit and milk sorbet and many more.
Four Frogs Creperie
175 Avenue Road Mosman NSW 2088
02 9960 1555
www.fourfrogs.com.au
If you are looking for a particular dessert to satisfy your cravings for sweets, perhaps Four Frogs Creperie will be able to fulfill your desire. Crepes are quite a popular dessert menu of choice as it can be consumed in short bursts. They are also quite varied as different types of meals can be made through crepes. This gives customers a lot of options to choose from when they decide to get crepes for dessert. Ice creams are also paired with crepes which makes it every more satisfying.
Chanoma Café
Shop11 501 George St Sydney NSW 2000
02 9266 0667
www.chanoma.com.au
Chanoma Café is a Japanese inspired snack bar that boasts their huge selection of food on the go. If you want to try something new with your desserts, definitely try out their variety of frappe and latte. Their parfait selections also have its own authentic twists which makes it a whole new experience from the start. Their soft serve ice cream is also great to be paired with their hotdogs. They also offer extra toppings such as whipped cream, fruit cocktail and more for your desserts.
Korn – Home Thai Restaurant
128 Willoughby Road Crow's Nest, New South Wales, Australia 2065
02 9439 9969
www.facebook.com/KornThaiRestaurant
Another new and very authentic Thai restaurant that is quickly making quite a name for itself, Korn – Home Thai restaurant can be a breath of fresh air especially to those who are used at dining at western-inspired Thai meals restaurants. Many food bloggers are writing volumes on their diverse savoury meals which are served with fresh and with the finest ingredients. But their Thai desserts are what I'm writing about today – wonderful dishes such as Tup Tim Grob, the Khao Nieaw Tau Daam, the Voon Kathi Bai Toei, and the Kha Nom Thuay as well as the to-be-expected Mango Sticky Rice.