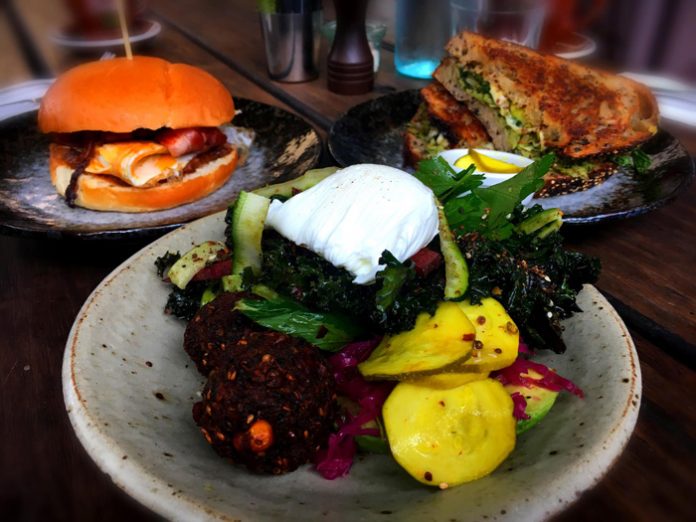 Cafes come and go, especially in the hip and trendy Eastern Suburbs. If you last five years you've done very well for yourself, if you push beyond ten years you've become an institution. The Waverley cafe Bellagio has been in its corner spot, on Bronte Road, is now in its lucky thirteenth year. Now, that's some feat! They've not changed in any radical way, but they've fine-tuned their menu over the years, especially in recent ones, and especially since their sister establishment, The Nelson Road Tuckshop in Bondi Junction, which is where they bake their bread, make their legendary condiments (more on that later!), and smoke their meats and pickle their gherkins. Some of this goodness can be purchased at Bellagio Cafe.
Pretty much everything on the menu is made in-house, apart from the coffee, which is Campos. A superb bean, Campos is one of the top five roasters in the city. Of course if it's tea you're after, there's several leaves to choose from, also a housemate chai, and even a housemate turmeric latte! Plenty of smoothies to choose from, fresh juices, the increasingly popular Kombucha (in seasonal flavours), plus frappes, milkshakes, and a Yogi Bear for the kids; chocolate, banana, peanut butter, ice cream and milk.
Now, if the hour is right, you can choose some booze, with a Negroni being top of the list, plus a selection of barrel-aged cocktails (ask for what's currently being shaken or stirred). Young Henry's is the beer, Hills is the cider, and there are a bunch of wines by the glass. If you're after something specific, don't hesitate to ask one of the friendly waiting staff, who, rather cutely, have their names emblazoned in white on the backs of their black tees or hoodies.
Breakfast is until 11.30. No all-day, I'm afraid, but a few of the dishes do carry over onto the lunchtime menu. We arrived post noon, so we missed out on breakfast styles, but giving the menu a squizz, I was well impressed with some of the dishes on offer; Coconut & lime Quinoa Bircher ($16), Salmon Tartine ($18), and House Smoked BBQ Brisket Hash ($22), wow, I'm salivating over that last one just writing it.
The brunch/lunch menu is just as good, so after ordering coffees straight up, we finally decided on what we wanted. I was hungry, I ordered the Bacon and Egg Roll, which had sriracha sauce, so I was sold ($12), and the Broccoli and Three Cheese Toastie ($15), which was divine. Apparently one of the owners was pregnant and decided to put one of her "weird" cravings on the menu, much to the concern of her staff. Turned out to be an absolute winner, and is the favourite dish of many patrons and staff. Oh yeah, the swiss, goat's feta, and parmesan, with toasted seeds, and large sandwich pickles was the bomb! Apparently there's a four-cheese toastie at the Tuckshop!
My wife had the Harvest Bowl ($19), which was delicious also; chilli-fried kale, zucchini, mint and beetroot salad, green lentil felafel, avocado, mixed house pickles, and pistachio dukkha. She added a perfectly poached egg. We were both very impressed with our brunch, and with the service. It had been a while since we'd visited Bellagio, but they're holding fort with gusto.
There's a lovely front patio, and one of the big plus factors for parents is the play area out back in the courtyard, which has a marquee if the weather is a little on the meh side.
Oh, yes, I almost forgot! I had to purchase a jar of their famous Felix the Jam Man's BBQ (bacon) Chutney (the price escapes me, but it's worth every penny!) Other jars you can purchase include a grapefruit and ginger marmalade, or a triple berry jam. I'm a savoury-tooth, so I'm all over that chutney, which even has coffee listed in its ingredients! Trust me, it's amazing.
Bellagio Cafe
285 Bronte Road, Waverley.
Breakfast, Brunch, and Lunch, 7am-4pm, 7 days.
Dinner and Wine Bar, Weds-Sat, 5.30pm – late (please check online or email directly for menu)
Ph: 9387 1562
Email: ballagiocafe@bigpond.com