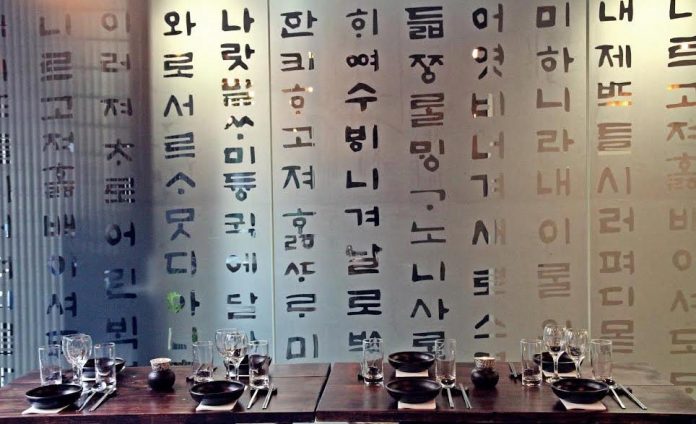 Asian Fusion Cuisine in Sydney takes many forms and can mix Chinese with Thai with Vietnamese with Indonesian dining – Asian Fusion Restaurants & Cafes are everywhere and of course they can also mix Asian with Western, such as French with Japanese. Sydney's best cafes, restaurants best coffee Campos Coffee tarot jewellery readings.
Paper Bird
46A Macleay St, Potts Point Ph: 02 9326 9399
http://paperbirdrestaurant.com/
facebook.com/paperbirdpottspoint
An Asian inspired restaurant and fully licensed bar, Paper Bird is open for breakfast on Saturdays and Sundays closed Sunday night and offers lunch and dinner Mondays to Saturdays. Modern twists to Asian favourites and gluten free options, Paper Bird looks like it's here to stay.
Red Lantern Restaurant
60 Riley St, Darlinghurst Ph: 02 9698 4355
redlantern.com.au 
facebook.com/RedLanternViet
You honour good company in Vietnam by putting a red lantern outside of the home. Red Lantern on Riley promotes ethical eating by using fresh and sustainable produce in their menu and uses long standing family secrets and techniques in preparation of their dishes. The end result is a quality meal born out of love.
Rising Sun Workshop
1C Whateley St, Newtown Ph: 02 9550 3891
risingsunworkshop.com/cafe/ 
facebook.com/risingsunworkshop
Sydney's first communal workshop space, Rising Sun Workshop is a motorcycle workshop and a dining place where the best ramen can be found. It is where everyone feels welcome and encourages guests to fix and service their bikes while providing great food, coffee and a venue to talk with like-minded individuals. Whenever possible they support and buy local. If they can make it themselves, they will.
Yan 
G03, 19 Arncliffe St, Wolli Creek Ph: 02 9599 8712
yanrestaurant.com.au 
facebook.com/YanWolliCreek
One of the best additions to the Wolli Creek scene. A hidden gem where you could feast on wagyu beef, grilled prawns, amazing squid and lamb ribs. The coconut ice cream and jelly is made on the spot and is something to write home about. If you're looking for amazing Asian style smoked meats, you simply can't go wrong with Yan.
Longrain Restaurant & Bar
85 Commonwealth St, Surry Hills
Ph: (02) 9280 2888
The soul of South East Asian Cooking is the perfect harmony between four essential elements: hot, sour, salty and sweet. Longrain is inspired by the communal eating philosophy of the Asian table, their menu made up of dishes created for sharing. Longrain's menu has evolved from Martin Boetz's original Longrain vision, bringing South East Asian influences to carefully sourced ingredients with fresh, zingy flavours. Longrain's vibrant menu is carefully balanced with wines and cocktails. Their long, shared tables encourage the spirit of eating together, so you can try each dish as part of a full tasting experience, just as it was intended (limited reservations available). Or book one of their individual tables for parties between 6 – 10 people or private dining room for 12-22 guests.
Devon Café
76 Devonshire Street, Surry Hills, NSW
Ph (02) 9211 8777
www.devoncafe.com.au
Experience an authentic mix of Asian fusion with dishes served at Devon Café. Their menu is a mix of different eastern cultural aspects. To start with, you can try their Malaysian based treats paired off with a huge wine list that comprises of Asian and local beers and wines. If you are learning on seafood delicacies for you and your friends, their lobster roll is a popular menu option of choice. Their dessert selection is also quite varied. Check out their fried ice cream baos, coconut jelly or a guava sorbet today.
China Doll
4/6 Cowper Wharf Rd Woolloomooloo
9380 6744
www.chinadoll.com.au
Enjoy an amazing skyline vine while dining with your family or friends at China Doll. Get a taste of traditional oriental dining experience in a form of modern Asian cuisine. With that said, their menu aren't a mixed of different Asian fusion as each dish serve in their restaurant stays true to its root ensuring that every dish is unique and different from the rest. Dumplings, seafood, vegetarian and other eastern inspired cuisine can be found at China Doll.
Chinta Ria
The Roof Terrace Level 2 Cockle Bay Wharf
9264 3211
www.chintaria.com
An authentic dining experience with the right ambience and environment to make it truly immersive found at Chinta Ria. Chinta Ria's open like nature makes the place cool and refreshing to stay at. Their menu is also quite varied as these changes depending on the regular date or holiday. For starters, you can try out their Tofu Quartet with a touch of their own spicy peanut sauce. Their main dishes include a variety of prawns such as Chilli Prawns, Garlic Prawns and more.
Cochin
61 Fitzoy Street Surry Hills NSW 2010 Australia
9358 5388
www.cochinrestaurant.com.au
Elegant modern Asian fusion found with their cuisine at Cochin. As a result a unique and one of a kind dining experience is felt with the variety of dishes that they serve. Have a taste of menus influence by southern tradition with a touch of French influence with their Vietnamese cuisine. They have a variety of appetizers along with their entrée to prepare you for their main course. Definitely try some of their spicy beef rolls or roast quails before your proceed with their mains.
Blue Ginger
241 Darling Street, Balmain NSW 2041
9818 4662
www.blueginger.com.au
Blue Ginger is a perfect Asian inspired restaurant that is able to cater and sate the hunger of their large guests. They offer functions for a more personalized and intimidate dining experience for you and your friends. Special occasions call for a special menu and environment. You can find such location at Blue Ginger. You can also enjoy meals even by yourself as they serve short orders. You can find a variety of noodles, curries, seafood and other amazing dishes when you visit their site today.
Marigold
Levels 4 & 5 683 – 689 George St Chinatown / Sydney
9281 3388
www.marigold.com.au
Enjoy Asian dining cuisine at its best with a touch of Cantonese at Marigold. Their dishes are served fresh with the finest ingredients from seafood, to meats, to vegetables. This ensures that all of the flavors are kept fully intact. Marigold boasts their large dining area that is able to hold up to 200 seats. Their banquet hall can seat up to 600 guests which is great place and can be used as function rooms to host private and special occasions.
Red Lantern
545 Crown St Surry Hills
9698 4355
www.redlantern.com.au
Asian cuisine found at Red Lantern can be a bit hard to pronounce, however this does not affect their overall taste. A brief description is given with their menu to give customers an overview of what to expect when they order. For lunch, you can settle for a variety of Vietnamese Baguettes or Soft Rice Paper Rolls that can be prepared with different blend of spices and herbs. This is great as one can order the same menu but is cooked differently making an overall great dining experience.
The Blue Elephant
2 City View Road Pennant Hills NSW
8401 1508
www.blueelephant.com.au
Grab a bite of authentic Sri Lankan and Indian inspired cuisines with you and your friends. The Blue Elephant provides a wide variety of mouthwatering dishes that which includes their seafood specialties, curries, hot sambols and many more. For vegans out there, their strictly vegetarian dishes are a delight to see. The Blue Elephant also offers catering for large number of guests and their bar is a good place to relax and unwind after a scrumptious and satisfying meal.
Infusion@333
333 George St Sydney City
9290 3333
www.bar333.com.au
A nice place to enjoy your meals with a thoroughly modern looking dining space for you and your friends to enjoy found at Infusion@333. If you are craving for something unique and one of a kind with regards to your dining experience, head over at Infusion@333 to satisfy your desire for an authentic Asian cuisine. The restaurant is conveniently situated in the middle of a great cocktail bar which makes it your overall dining experience complete as a result.
Little Saigon Vietnamese Restaurant
742 Old Princes Highway Sutherland
9542 1077
Little Saigon is an amazing Vietnamese inspired restaurant which offers unique and authentic Asian dishes at a very affordable price. Those who love trying out different dishes from around the world are able to so do without spending a considerable amount of money. They have rice paper rolls, stuffed chicken wings and raw beef salad and sugarcane prawns for their entrée. For the main course, their goat curry is great for all occasion. For dessert, you can try out their fried ice cream or flan.
PHD Vietnamese Restaurant
304 Illawarra Rd Marrickville
9559 5078
www.phophd.com.au
PHD Vietnamese Restaurant offers a wide variety of authentic Asian fusion cuisines that can tickle your taste buds with variety of spices and herbs that they add to their ingredients. Their menu is rich with selection of dishes each placed in their own category to cater to each everyone's taste and preferences. You can tons of options with regards to beef, pork, chicken, fish & squid, scallops, king prawns, vegetables, omelette, noodles etc. and this is just scratching the surface.
Port Orient Asian Fusion Restaurant
Level 2, Shop 449 Harbourside Shopping Centre Darling Harbour
9282 9922
Enjoy modern Asian fusion cuisine with an amazing view of the skyline at Port Orient Asian Fusion Restaurant. Port Orient mixed good food along with a great view which customers really enjoy. The ambience and the environment really complete the overall dining experience especially at night where the city lights radiate the beauty of your meals. For entrée, you can try out their seafood specialties such as stuffed crab claws or a prawn cutlet, and perhaps a sautéed chicken fillet for your main course.
Sun Ming Coffee Lounge
154 Church St Parramatta
9689 2178
A huge part of Asian fusion cuisine comes from the roasted specialties. Sun Ming Coffee Lounge provides a variety of roasted dishes with its own unique and authentic oriental taste. You can try out their juicy BBQ pork also known as char siu for you and your friends to enjoy. Other roasted specialties include roast duck and pork all at a very affordable price. Those who are quite on a tight budget can still enjoy modern Asian cuisine at Sun Ming Coffee Lounge.
Temasek Restaurant
71 George St, Parramatta, New South Wales 2150, Australia
9633 9926
Enjoy amazing authentic Malaysian cuisine without the need to travel at distant places at Temasek Restaurant. Temasek Restaurant serves Asian inspired cuisines to a large number of their guests on a daily basis. The place is quite jammed pack with different eager to have a taste of their authentic meals. Check out their hainanese chicken rice, the beef rendang, nasi goreng, sweet soy sauce and char kway teow when you visit their restaurant today. They serve meals quickly while being affordable at the same time.
Uighur Cuisine
Shop 1/8 Dixon St Sydney, NSW 2000
02 9267 8555
An Asian themed restaurant that is heavily inspired by Chinese is what you can find when you visit Uighur Cuisine. If you are looking for some roasted specialties, you can try out their lamb skewers which great any occasion. They also have hand pull noodles, stir fried chicken and potato, stir fried eggplant, samosas, spring onion pancake with handmade noodles and shredded potato with chilli and many more. Relax and unwind after a satisfying meal with a prune drink served at their restaurant.
Ying's Seafood Restaurant
270 Pacific Highway Crows Nest
9966 9182
Seafood plays a primary role with regard authentic Asian cuisines. Find the freshest seafood dishes available with a touch of eastern influence upon preparing at Ying's Seafood Restaurant. To fully enjoy seafood specialties, it has to be picked and cook right at the same time. Ying's Seafood Restaurant delivers with their succulent and juicy dishes. They also have other dishes available to cater to the taste and preference of others. Try their dumplings and salt and pepper calamari today.
ZILVER
Level 1 477 Pitt St (cnr Hay St) Haymarket
9211 2232
Enjoy classic Chinese cuisine with a modern touch of sensibility at Zilver. Love seafood? You can find such authentic seafood cuisines at Zilver with their huge variety of Chinese inspired dishes to sate the cravings and hunger of their customers. Not only that, Zilver delivers with an amazing ambience and environment for their customers to enjoy. Have a wonderful evening with your family or friends at Zilver. Also check out their huge variety of dim sum specialties, their dumplings and fried rice as well.
Din Tai Fung
Level one, Open Air Plaza 644 George St
02 9264 6010
www.dintaifungaustralia.com.au
If you love dumplings, then you will definitely enjoy your dining experience at Din Tai Fun. They are known to serve the best tasting dumplings all over the world. There is no need for one to travel to the eastern parts of globe to have a truly authentic taste of oriental meals. Din Tai Fung delivers such experience with their meals serve to hundreds of people on a regular basis. Get your cravings for dumplings satisfied by visiting their site today.
Spice Temple
10 Bligh St Sydney NSW 2000 Australia
8078 1888
www.rockpool.com/spicetemplesydney
Add a little spice to your dining experience to make it a memorable night with you and your friends. Spice Temple offers an authentic dining experience with its roots primarily influenced by oriental cuisines. For those who want an extra kick with their meals, they can choose to order spicy dishes which are clearly highlighted at the menus found at Spice Temple. They even have spicy entrées in the menu which is also applied to some of their salads and cold cuts as well.
Golden Century Seafood
393 Sussex St Sydney, NSW
02 9212 3901
www.goldencentury.com.au
Enjoying fresh and authentic seafood specialties made with a touch of oriental flavors and taste to satisfy your cravings and desire. Golden Century Seafood offers a wide variety of dishes for seafood lovers to enjoy. You can try out their unique and one of a kind live abalone sashimi or their live lobster sashimi or other oriental styled dishes. Enjoy a relaxing sip of high quality wines available in huge variety such as the red wine, sake, champagne and more to complete your overall dining experience.