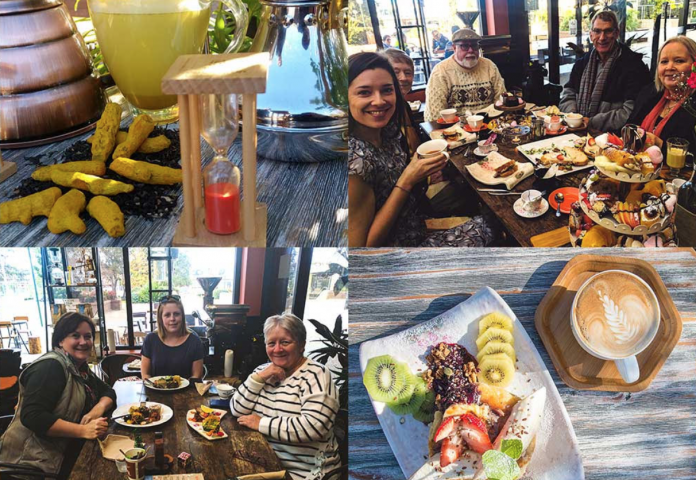 A wellness eatery which believes in delivering an exceptional guest experience, Alkalizer offers a space in which you can feel more connected and balanced while enjoying good food and even better coffee.
Alkalizer is the first of its kind in the South Western Sydney region and is committed to aiding you in making healthier, yet scrumptious life choices with ease. After all, as Virginia Woolf said, "One cannot think well, love well, sleep well, if one has not dined well."
Alkalizer's philosophy is to spread positivity by balancing, nourishing, renewing and energising their customers via a holistic food and beverage experience. Its founding owners have almost ten years in the hospitality industry and recognise the need for an eatery where diners can relax and enjoy fresh and wholesome food and beverages.
​
Through their carefully planned gourmet meals and drinks, ambience and team, they infuse positive energy into the bodies and souls of their customers. They're a lifestyle café that promotes wellness, mindfulness and self-care – you can pop in for a low acidity coffee, high protein snack or an all-important well-balanced meal – eat in or takeaway – and feel that life has been harmonised for the day.
"I was in the coffee business for more than 12 years – I was roasting coffee, drinking coffee, making coffee, training people in coffee," owner Shefali Kapil explains.
"It came a stage where I had to stop drinking coffee because my stomach just couldn't take it anymore.
"I ended up getting some advice about the benefits of an alkaline diet – a body that is more alkaline will fight off diseases better than one high in acidity.
"I started thinking about how to make a better, healthier cup of coffee, for myself first, but I started planning to open Alkalizer so then it became a matter of how to make it better for everyone."
One of the healthier options Alkalizer offers its diners is alkaline water, with all proceeds from their sales going to charity. Good for the body, good for the soul.
For indeed this memorable cafe's breakfast and lunch menus are packed with dishes to nourish body, mind and soul. Here's a few of the highlights:
Alkalizer House-Marinated Jumbo Garlic Prawns & Avocado
Seasonal crushed steamed veggies, baby spinach, mixed radish, kale, quinoa, pearl couscous, fennel, micro greens in belt of Lebanese cucumber with mary rose sauce.
Alkalizer Super Charger (vegetarian, vegan and gluten-free option)
Couscous & quinoa with roasted almonds, red cabbage slaw, beetroot, grilled pumpkin, grilled eggplant, capsicum, cucumber, carrots, olives, snow pea sprouts, alfalfa with white balsamic dressing, five seeds & dukkah
Choice of: polenta rounds / grilled chicken / grilled halloumi / smoked salmon / fennel + apple & beans.
Tandoori Lamb with Poached Pear
Spinach hummus, fennel, apple cannelleni beans, pearl couscous, quinoa, house greens tossed in lemon vinaigrette, cherry tomatoes, beetroot, mint yogurt sauce.
Alkalizer Benedicts
Bacon / Ham / Smoked Salmon / Haloumi / Confit Pork
With slow cooked mushroom, sauteed baby spinach & truffle hollandaise, snow pea sprouts, carrot noodles, alfalfa, micro greens, mixed radish.
Alkalizer also runs an excellent catering service – here's an example of their crowd-pleasing offerings:
Cold/Hot Savoury Bite Platter – 45 pieces:
Petite pot pies, boat quichettes, crumbed chicken/fish with dippers, spinach and feta filo pastry, sausage rolls, veggie dipper cups, spring rolls, teriyaki beef cups, salt and pepper squid skewers, sticky sesame ginger soy prawns, money bags, arancini white fish, arancini sundried tomato basil, filo lamb pine nut and olive, calzone cumin chicken and feta, empanadas corn yuca and manchego, involtini tomato and spinach.
The wellness eatery has been very well received not just by locals but by local media too, with articles by the South West Voice and Wollondilly Advertiser giving expression to the positive virtues of this ground-breaking cafe.
Garnering Rave Reviews:
"Such a lovely family run business. Dedicated to healthy, nutritious and tasty food. And let's not forget the great coffee too. I'm very partial to macchiato's and they don't disappoint. Super convenient in the CBD of Campbelltown for business meetings and very accommodating for events catering too. Thank you for opening up and giving a great cafe option in Campbelltown."
"Amazing tasty food, the best (and biggest!) turmeric lattes and espressos that hit the spot everytime and awesome roasted coffee beans for at home – always the best service with staff going above and beyond, so friendly and helpful. We have eaten here for breakfast and lunch and also dropped in just for coffees or lattes and without fail it's always amazing!"
"My husband and I had breakfast here for the first time today, and it won't be the last. We absolutely loved the food. The menu was extensive there really are options for everyone. The staff are extremely attentive, the food is delivered quickly and presented beautifully. Definitely a must if you haven't been."
"WOW! The owner made me feel very welcome on my first ever visit. I had beautifully delicious breakfast. The presentation was 5 stars the soft eggs were cooked 5 stars the mushrooms was so yummy. I loved the atmosphere. I will definitely be back."
"Alkalizer is a must-try for anyone in the area. What Shefali and her team have created is an amazing atmosphere coupled with brilliant food and fabulous service! I highly recommend everyone stop by and give Alkalizer a try!"
Alkalizer
Ph: 0423 247 422
91 Queen Street
Campbelltown
www.alkalizer.com.au
www.facebook.com/alkalizercafe
instagram.com/thealkalizer