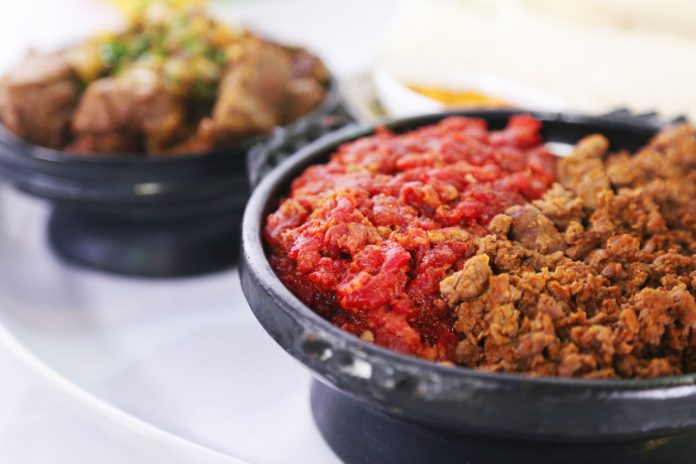 The choice of African restaurants in Sydney isn't huge, African eateries number less than a few dozen. But gradually Sydney is now home to an ever-expanding exotic array of African restaurants, offering you authentic & delectable insights into African culture …
Here are our recommendations for the best around:
African Feeling Café
www.africanfeelingrestaurant.com.au
1/501 King Street, Newtown Australia 2042 Ph: 02 9516 3130
African Feeling Restaurant serves food inspired by traditions and recipes from all over the great African continent.Serving incredibly diverse and unique meals that thrill Sydneysiders when they come to eat at African Feeling.
Lucky Tsotsi Shebeen and Bar
www.luckytsotsi.com.au
245 Oxford St. Darlinghurst NSW Ph: 02 8354 1306
Located at 245 Oxford St, Lucky'sShebeen serves up genuine African street food in a humble environment. His Shebeen is creatively decorated to recreate an authentic African experience.
Radio Cairo
www.radiocairo.com.au
83 Spofforth St Cremorne NSW 2090 Ph: 02 9908 2649
Radio Cairo hot-spot is famous in Cremorne for its cuisine that's bordering on African and Middle Eastern. The dishes are carnivorous, flavourful and aromatic. It's a perfect place for a pre-film meal with Orpheum cinema just across the road.
Le Kilimanjaro
www.africaneatery.com
280 King Street Newtown NSW 2042 Ph: 02 9557 4565
Le Kilimanjaro is easily recognizable due to the large mural of the African continent on the wall outside. The restaurant is casual with a friendly atmosphere in which to enjoy affordable dishes from all over the continent.
Out of Africa Restaurant
www.outofafrica.com.au
43-45 East Esplanade Manly NSW 2095 Ph: 2 9977 0055
Enjoy the legendary Moroccan art of hospitality at Out of Africa Restaurant. Multi-award winning restaurant with beautiful atmospheric space full of warm earthy colours and traditional decorations.
Café Mint
www.cafemint.com.au
579 Crown St Surry Hills NSW 2010 Ph: 02 9319 0848
Cafe Mint in Surry Hills offers a cool menu busting with North African and Middle Eastern flavours. Best place to enjoy weekend brunch with the family.
Sumac
www.atlanticgroupv.com.au/landing/sumac/
The Promenade Harbourside Shopping Centre Darling Harbour NSW 2000 Ph: (02) 9281 2700
Sumac restaurant and bar has been built and decorated with authentic Moroccan materials. Tantalize your taste buds with exotic cuisine incorporating flavoursfrom the Mediterranean, Middle East and North Africa.
JamboJambo African Restaurant
www.jambojamborestaurant.com.au
16/103-111 Willoughby Rd, Crows Nest NSW 2065 Ph: 2 9439 3277
JamboJambo is Swahili for hello, hello it is an Ethiopian restaurant in Sydney. It's the sort of place you go if you want to try something completely different. It is BYO with a little corkage.
The Hunter Wine Bar
www.hunterwinebar.com
5 Myahgah Road, Mosman, NSWPh: 409 100 339
The Hunter is a boutique African inspired wine bar in the heart of Mosman.The design, food, cocktails and wine are individually worth braving the wilds of Mosman.A warm and friendly place you will keep coming back.
Aaboll Café – Ethiopian Cuisine
www.aaboll.com
140 Merrylands Road Merrylands NSW 2160 Ph: 02 8840 9076
AabollCafé is proud to bring you the true taste of Ethiopia. It focuses on Ethiopian cuisine and culture. Aaboll's authentic Ethiopian food menu features vegetarian, meat, poultry and fish.
Lat-Dior African Eatery
www.africaneatery.com
150 Enmore Ln, Enmore NSW 2042, Ph: 02 9557 4467
Lat-Dior African Eatery serves West and North African dishes. Surprising flavour combinations jump out of Africa and onto your plate. Lat-Dior is casual, very friendly, BYO and excellent value.
Durban Dish
plus.google.com/108776589902025331161/about?gl=ph&hl=en
6 Old Northern Rd, Baulkham Hills.Ph: (02) 9639 3872
Durban Dish is a restaurant and shop serving a fusion of African and Indian cuisines, a combination of samosa and biryani in the mix. A real home-cooked feel to this place with BYO.
Bianca's Deli
www.biancasdeli.com.au
532 Old South Head Road, Rose Bay Ph: 02 9371 6022
Bianca's Deli specializes in South African and Jewish food in Rose Bay. Expat South Africans can satisfy their culinary nostalgia in this place. They sell Five Roses tea, Ouma rusks, Mrs Ball's chutney and Biltong.
Wet Paint Restaurant
www.wetpaintrestaurant.com.au
56-60 Macpherson St Bronte NSW 2024 Ph: (02) 9369 4634
Wet Paint Restaurant is a local neighbourhood restaurant situated at Macpherson St Bronte. The fare is melting post of North African and Mediterranean and Modern Australian and Cajun/Creole cuisine.
Kazbah – Darling Harbour
www.kazbah.com.au
Shop 284/2-10 Darling Dr, Sydney NSW 2000 Ph: 02 9555 7067
Kazbah is a Moroccan Restaurant in Darling Harbour, the newest member to the Kazbah Group. Authentic Moroccan cuisine is served up with flair – just like they do in Marrakech, Fez or Casablanca.
Moroccan Feast
www.moroccanfeast.com.au
127 Avoca St Randwick NSW 2031 Ph: (02) 9399 9882
Moroccan Feast is an authentic Moroccan Restaurant in the heart of Sydney's eastern suburbs. Be prepared to be transported to Morocco through its traditional themes, colours, scents and flavours.
Sahara Restaurant
www.restaurantsahara.com.au
95 Parramatta Rd, Annandale NSW 2038 Ph: (02) 9550 1551
Sahara Restaurant is the authentic Moroccan fusion restaurant, headed by the owners of East Sydney's award-winning Sahara at the Republic. It's the perfect place for casual lunch or dinner, or to celebrate any occasion.
Hurricanes Grill & Bar
bondibeach.hurricanesgrill.com.au
130 Roscoe Street, Bondi Beach, NSW 2026, Sydney Ph: (02) 9130 7101
Hurricane's signature dishes, basted in their secret recipe; basting sauces originate from South Africa. That makes their chain qualify as African restaurants. Their special ingredients set them apart from other traditional steakhouses making their tasty ribs and steaks, unique and extra flavoursome.