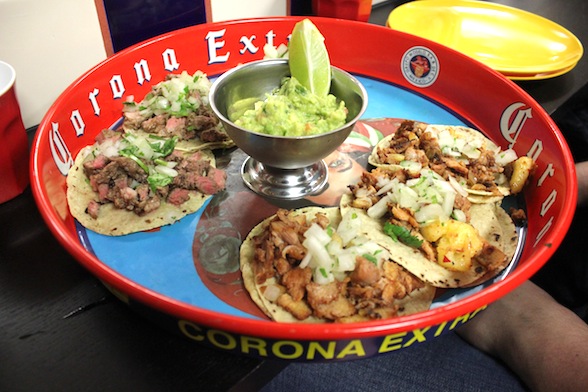 Tequila Mockingbird 
6 Heeley St, Paddington Ph: 02 9331 6749
tequila-mockingbird.com.au 
facebook.com/TequilaMockingbirdPaddington
Bold, fresh and exciting! This is how Tequila Mockingbird in Paddington is best described. They offer sensational flavourful food inspired by traditional Latin American dishes in a warm atmosphere with a great beverage list. With that clever a play on their name, it is an indication of your dining experience; cozy, satisfying and looking forward to your next time.
Azteca's Mexican Cuisine
140 Avoca St., Randwick Ph: 93981020
www.aztecasrestaurant.com.au
When it comes to Mexican cuisine, Azteca's Mexican Cuisine Restaurant is definitely one of the best choices in Sydney. The restaurant is owned by native Mexicans themselves and could therefore vouch for the authenticity of the flavors of the food that they prepare. What makes this restaurant really interesting is its ability to combine great Mexican food with an ambience that could make the guests feel that they are truly in the said country. Mexican music is also played in the background, adding appeal to the place.
Café Pacifico
95 Riley St., East Sydney Ph: 93603811
sydneycafes.com.au/pacifico.html
The mere fact that it was declared as the café of the month sometime in 2012 should tell you that Café Pacifico is worth going to if ever you want to try some Mexican food delights. The restaurant actually offers a fusion type of Mexican cuisine; one that is largely inspired by the Latinos living in Los Angeles, California. However, if you really want to eat something more authentically Mexican, you could definitely try the more traditional goodies on the menu.
Chili's Texas Grill
4 Rennie Rd., Woodbine Ph: 46280412
Just by its name, you could already tell that Chili's Texas Grill specializes in Texas-styled barbecue. One of the reasons why it has been able to maintain a loyal group of patrons is the way that it prepares its barbecue and its sauce. Hot and spicy just the way Tex-Mex cuisine should be. The restaurant is actually part of a larger chain of restaurants that has established presence in a number of countries worldwide. This only proves that people love it regardless of the food culture they may have.
Fiesta on Oxford
306 Oxford St., Bondi Junction Ph: 93893885
www.fiestaonoxford.com.au
Mexican fiesta is a unique experience that you could not imagine experiencing somewhere else but in the barrios. However, the moment that you step inside Fiesta on Oxford, you would be surprised to know that you could actually have the same experience here. The restaurant does not only specialize in traditional Mexican cuisine but also in the more contemporary favorites. These include fajitas, lobster Veracruz, achiote lamb cutlets, and others. You could enjoy these foods along with Mexican drinks too.
Jimenez Mexican Restaurant
43 Old Northern Rd., Baulkham Hills Ph: 96862626
Jimenez Mexican Restaurant never fails to impress its guests with its wide array of genuine Mexican foods. However, even as it boasts of preparing such delights in the most authentic way, it also takes pride in the fact that its ambience could virtually take a patron away and bring him across the Pacific to Mexico. The interior of the restaurant has a certain feel that could only be attributed to anything that is Mexican. The interior is definitely a bonus in making the restaurant really Mexican.
Juanita's Mexican Restaurant
102 Anzac Parade, Kensington Ph: 96635013
sydneycafes.com.au/juanitasmexicanrestaurant.html
It is not just the sight that could give you an idea of what a Mexican restaurant is upon entering Juanita's. One of the reasons why you would really feel being in the country is the smell of spices in the air. The spices, of course, are all native to Mexico. It is not just your sense of smell and taste that would enjoy the Mexican delights. Your eyes could also feast on the interior decoration which would make you forget that you are actually in Sydney.
Montezuma's Mexican Restaurant
78 Campbell Parade, Bondi Ph: 91308100
www.montezumas.com.au
While Montezuma's Mexican Restaurant promises to provide its patron with authentic Mexican cuisine, it actually relies on ingredients that are grown organically at home. This is actually one of the key reasons why there are people who remain loyal to the restaurant and they may even visit it a number of times in a week. Those who prefer to have their food hotter still, they could definitely request for an additional sauce. Vegetarians would love the restaurant too because this is one of the very few in Sydney that offers alternative vegetarian Mexican foods.
Montezuma's at Crows Nest
51 Alexander St., Crows Nest Ph: 99013533
www.montezumas.com.au
There are two Montezuma's found in Sydney. One is in Bondi and the other is Crows Nest. This only means that the people in Sydney love the restaurant and they would rather have one that is nearest to them. Apparently, this fact tells that Montezuma's Mexican cooking is much sought after. For the locals, the restaurant is not just a place to eat but somewhere they could also socialize while enjoying food inspired by a people and country across the Pacific.
Newtown's Cocina
403 King's St., Newtown Ph: 95198211
It is a fact that the latest evolution of Mexican food could be seen in what is now called as Tex-Mex. This is the kind of fusion cooking that Newtown's Cocina has gained popularity for. However, what really makes this restaurant appealing is that it also happens to transcend beyond the usual Tex-Mex. Its chefs certainly are not afraid to blaze the trail when it comes to fusion cooking. This is what the restaurant is very much proud of.
Pepinos Mexican Restaurant
181 Victoria Rd, Gladesville Ph: 98171988
www.pepinos.com.au
Pepinos is one Mexican restaurant that stays different. Despite of the fact that it prepares the same type of cuisine that others do, it has something unique to offer. This is the reason why customers love to come back after trying it the first time. It is here that you could enjoy outdoor dining. You are closer to nature while you enjoy Mexican food that is prepared from the freshest ingredients. Your kids could also enjoy the delights that could be found in the kids' menu.
Tex Mex Mexican Café
18 Barrenjoey Rd., Mona Vale Ph: 99978884
If there is one major reason why you would love Tex Mex Mexican Café, it is that it probably offers the cheapest Mexican delights in the city of Sydney. In fact, it may even offer half the price of the same food that you could order from other restaurants. This is one amazing feature that you may not get to enjoy from other Mexican restaurants in Sydney. This is precisely the reason why the place is often packed up. Of course, the food is also very delicious.
Vera Cruz Mexican Cuisine
314 Military Rd., Cremorne Ph: 99045818
www.facebook.com/pages/Vera-Cruz-Restaurant-Bar/114534588585359
Vera Cruz Mexican Cuisine is one of the restaurants in Cremorne that continues to attract a huge number of clients. Apparently, there are not so many restaurants in the area that offer Mexican foods. However, this is basically not just the reason why people go there. If you ask those that have gone to the restaurant even for once, they would certainly tell you that they would not hesitate to go back because of the food and the great service.
Barrio Chino
28-30 Bayswater Rd., Kings Cross Ph: 80219750
www.barriochino.com.au
For those who want to eat their Mexican food with the appropriate drinks, Barrio Chino would surely be considered as the best choice. The restaurant is known as a tacqueria and a tequileria. This means that you would certainly enjoy the best tacos and the most exquisite tequilas in town. Another major attraction here is that you could enjoy these in style. While the fares here are light, these are definitely Mexican. Whenever you are in Kings Cross, it is best that you do not miss this place.
Flying Fajita Sistas
65 Glebe Point Rd., Glebe Ph: 95526522
www.flyingfajitasistas.com.au
Flying Fajita Sistas takes pride in the fact that it makes sure that every ingredient of the food it prepares is fresh. While local produce is often used in the preparation, there are some ingredients that are imported from Mexico itself, especially when it comes to exotic herbs and spices. The aim, of course, is to make sure that the rich flavors are truly Mexican. It is also here that you would be able to choose from a wide variety of tequilas.
Dos Senoritas
265D Victoria Rd., Gladesville Ph: 98173737
dossenoritas.com.au
If you want to go for something that is light and Mexican, Dos Senoritas would surely be one of the better options. It is here that you would be able to enjoy the best Mexican starters in town. Among the favorites are its fresh guacamole, taquitos, and the Tres Gringos Dips. Its best pick though according to the many who have gone to the restaurant is taco. The tacos here are said to be bestsellers. Of course, you should try these with tequila.
Borderland Mexican Restaurant
97 Willoughby Rd., Crows Nest Ph: 94363918
Borderland Mexican Restaurant is famous for its great service. While it boasts of its great service, courtesy of its very warm and pleasant members of the staff, it does prove that it offers some of the best Mexican food in the areas. People usually come here for the fajitas and the enchiladas which are said to be the heavy favorites. Its most appreciated feature is the sizes of the servings. Customers always say that these are much bigger when compared to the prices.
Guzman Y Gomez Mexican Taqueria
2/77 Willoughby Rd., Crows Nest Ph: 91910901
www.guzmanygomez.com
Mexican food may be something that is very popular already not just in the North American continent but all over. Guzman Y Gomez Mexican Taqueria though takes pride in the fact that it is one of the pioneers in introducing such cuisine in Australia. Since then, it continues to amaze Australians with its great Mexican foods. People love to come back for the traditional flavors of the food that they eat here. Aside from the food, the ambience is truly Latin American.
Cactoblastis Mexican Kitchen
159 Wycombe Rd., Neutral Bay Ph: 404014465
www.cactoblastismexican.com
If there is such a thing as a Mexican fastfood restaurant, Cactoblastis Mexican Kitchen may fit in such category. The main reason behind this is that this restaurant is taking the lead when it comes to light and yummy Mexican treats. Its burritos bowsl, nachos, and tacos are its most popular offerings. However, these definitely are not the only food on the menu that people love. Cactoblastis also attracts people because of the truly Mexican concoction of drinks that quenches thirst.
El Loco
64 Foveaux St., Surry Hills Ph: 92114945
Fresh ingredients always guarantee great food no matter which culture it belongs to. This is what El Loco continues to prove time and again. The restaurant is basically a cantina. Despite this though, it is still considered to be one of the Mexican food attractions in Surry Hills because of wonderful menu. One can start with its delicious tacos, which are served as appetizers. To cap of a great meal, favorite Mexican drinks could be ordered, such as margaritas and tequilas.